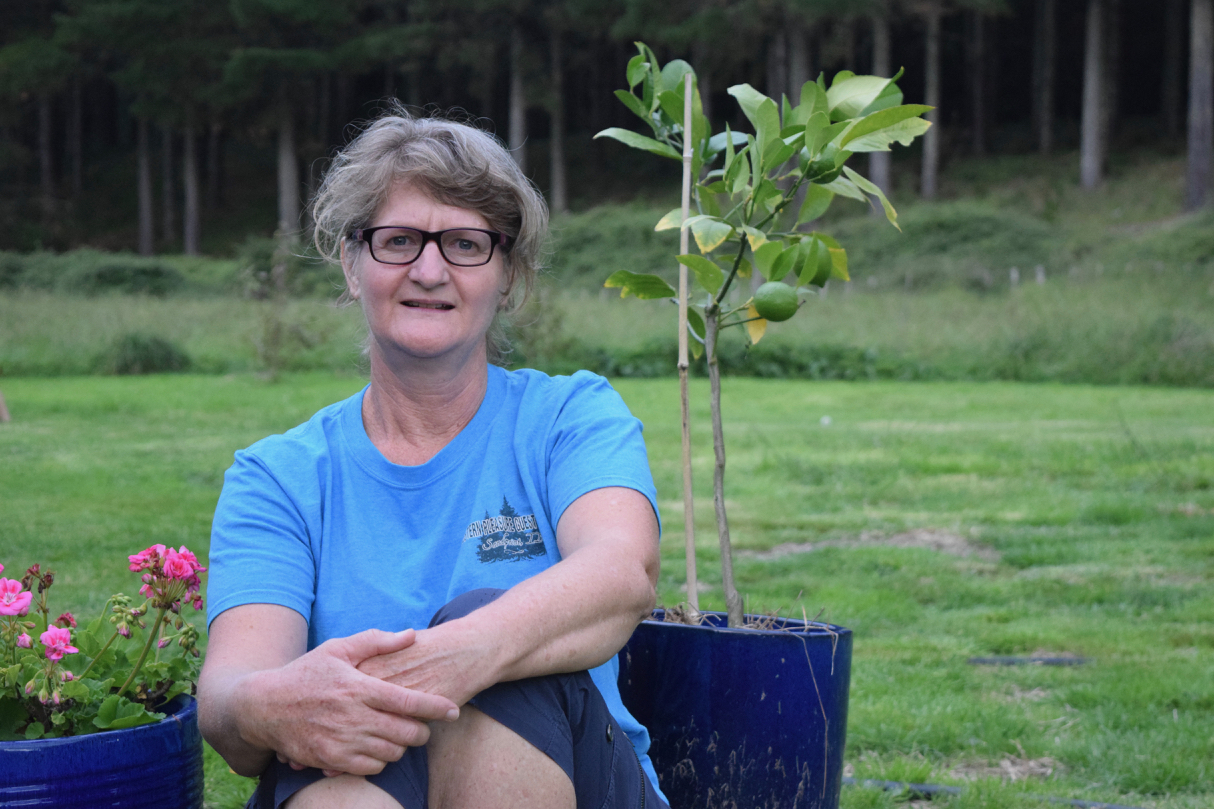 What happened in your life before Kotare?
I was a bored child and I spent a lot of time in boarding school which made me even more bored.  My dad brought a lifestyle block when I was 8 and then a larger piece of land a few years later so I got to spend some time on the farm with my parents on school holidays and as a teenager when I was lucky enough to discover horses.  It didn't take long for me to develop a preference for the rural lifestyle over that of the suburbs.  But then of course, as you do, you leave home to get a job to make your 'way in the world' although all my life I have always yearned for the quietness of being out of town, in the country side.  I always used to love it, going somewhere for the weekend, perhaps a self contained cottage on a farm somewhere, so we could go horse-riding, tramping or cycling; particularly if we could take good friends with us, essentially escaping the hubbub of the city but still having good company to share it with.  I discovered a long time ago that the best things in life are better shared and that stuck with me.
Roll forward a good couple of decades and Joe and I got to a point in our life where we wanted to do something else and thought 'we've never farmed before so why don't we try that next.'  We shut down our respective businesses and brought a piece of land in South Africa that we farmed with organic alfalfa for 5 years or so.  During that time we realised that the term outlook was bleak from a political point of view and it wasn't going to be an option to remain in South Africa.  We were starting to see the writing on the wall and in hindsight we were right, it has been announced just recently that all farms in South Africa are going to be redistributed.  It was difficult to realise that we couldn't stay there, as much as we liked it and had dreams for developing our farm into an eco village as well as a permaculture training institute.  It was around about that time also that fracking was seriously being considered in South Africa and it just seemed that no matter how hard we tried to prevent stuff like that going ahead, the publics voice was meaningless, we were virtually shouting against a thunderstorm.  It was very clear to us that the country just no longer met our needs and it would be better for us to move on.
So in 2012 we arrived in NZ and of course had to go via the route taken by most immigrants: settle in the city, apply for a work visa, get a job, find an employer that will go through the whole rigmarole which is pretty hard to do.  Eventually after being here for a couple of years and having gone through the process to the point where we were close to attaining citizenship, we decided it was time to leave the city and get back on track with our rural dreams.  So I started my search for eco villages in NZ because I knew that I either wanted to start one or join one and after visiting a couple and doing a lot more research online it became evident to me that I didn't have enough time left in my life to start one.  I was also worried that if I started my own I would get so bogged down in the mechanics of it all and wouldn't be able to enjoy it!
We came to Kotare last year in march, just over a year ago.  We attended a hui and that same weekend we stuck up our hand and said yep we will take section 26!  That was really great for me because I could now see where we were going and it was easy for me to shelve all my thinking about my own eco village and start on a plan to transition here.  So we moved here in the middle of December last year, around 3 months ago
What attracted you to Kotare specifically?
Well the key things for me were being able to live on a rural property without having to buy it myself because farm land is quite unaffordable in NZ.  Having emigrated late in life meant that we went backwards financially.  We knew we really wanted to live rurally again but we knew from having a farm previously that it can be a kind of 24/7 jail in that its almost impossible to get away:  Theres water pipes that need to be shut off/on/repaired, there's animals to feed, plants to water etc.  Me and Joe both still have itchy feet so we would like to do a bit more travelling, so being responsible for a farm where we had to be there full time just isn't part of what we want for ourselves.
The other thing that was key about Kotare is that its close enough yet far enough away from the closest village, being the town of Wairoa.  Where we had lived in South Africa we were a 45 minute drive from anything and what they had to offer there was ridiculously limited, we could  get basic supplies like flour, cooking oil, rice, salt and pepper but nothing organic to be had whatsoever and getting a decent bottle of wine was out of the question.  So we knew we didn't want to be too far away from anything but at the same time we didn't want to live right on the edge of a town.
Another thing that was key was being somewhere where the energy of the ground feels good.  We are both quite sensitive to bad energy, so we both wanted to be somewhere that when you step outside you go like 'ah yes, this is why I am here.'
Lastly having access to a north facing block for growing all sorts of things that we can't on the valley floor is key along with having a large catchment as a strong water source for the village.  Thats really important, coming from a dry climate we are used to dealing with incredibly little rain in a dry, brittle environment where you protect every drop of water that you have.  So for us, knowing that there is a spring in the hill and potential for dams is important in order to grow the village.
What do you see in your future?
A whole pile of things really, because I have itchy feet and I like even my holidays to be purposeful, there are so many ecovillages I want to visit in the world, to share ideas and get input into what works and what doesn't.  I still love horses but I know that having your own horse is extremely expensive and time consuming so I would be happy if perhaps once a year I could go on a one week horse trek somewhere to see different parts of the world, ride a different breed of horse and meet new people.
Also Interfering in everything until the day I die!
Of course I have things I want to do here at Kotare as well.  Theres a girl I have been inspired by called Rebecca Burgess from northern California who has created an organisation called Fibreshed;  that promotes and explores the concept of soil to soil garments in order to stop the fashion trade from destroying the planet completely.  It all starts with nurturing the soil so that you have the best and healthiest animals that give you the best fibre that can be spun and woven into the best possible fabrics that you can then use to create the most amazing garments that when you are finished with can be composted and returned to the soil!  Her whole philosophy is around soil health and growing soil carbon.  She also challenges organisations to make their supply chain their conservation project rather than outsourcing their charity to mitigate their negative impact on the environment.  She's good at networking and linking people together to collaborate.  I would love it if we could do something like that here, along with 100 other things!
What do you think is crucial to the ongoing success of Kotare Village?
There are 7 key facets in a humans life to be whole and productive: spiritual, social, intellectual, vocational, financial, physical and familial and they need to be in balance or you get physiologically sick.  We intrinsically know this but we don't always pay enough attention to it and it's quite an interesting exercise when one is feeling reflective enough to sit down and assess how we are going in these areas; whats working, whats not and what do I need to do to realign.  I believe as much as that holds true for individuals it holds for groups too.  The dynamics is a little different as everyone brings their own flavour into the mix.
I believe some of the things that we need to pay a lot of attention to here are the financial health of our village, we need to strengthen that. We also need to pay attention to the development of our culture and we need to be careful that it isn't just treated as a byproduct of us simply being here, we must put some real focus on it.  We need to think about what we want our culture to represent then when it comes to making decisions they need to align with that vision.  If we are looking for a culture that is supportive and meets peoples needs and allows people to reach their full potential in life we need to take steps to make that happen.
We also need to strengthen our economic base in the village, even if that means starting small and spiralling outwards, we need to start generating real livelihoods for more of us!