We continue to spend no money on food at the supermarket!!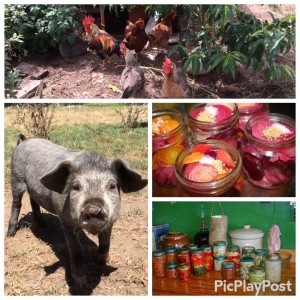 We processed our Essene flax seed today and we ended up with 5 .5 kgs from two biointensive beds of 10 sq m each. I think we can still go way better than that but we are building soil and that is great start.
I did a bit of research and found out that there are 9 Tablespoons of flaxseed in 1 cup full and there are 40 cup full in 5.5 kgs, so that means Bob and I can have the equivalent of 1 Tablespoon of flaxseed every second day all year round!
We will probably make a tray of pumpkin seed and flaxseed crackers once a week to eat with butter, liverworts, eggplant oil pickle, california red onions and a slice of bread and butter cucumber pickle and soft or hard cheese and or basil pesto all from the garden! Yummy!!
We haven't finished processing our Austrian hulless pumpkin seeds yet but we have from 9 pumpkin plants around 30 pumpkins so far and they usually have 1/8th kg of dried seeds per pumpkin. That will give us  around 4 kgs of seed which will not last all year but we also have a community pumpkin patch where we have Austrian Hulless seeds growing which we'll share and there are hundreds of pumpkins in there.   This year, while we will be eating pumpkin seed and Essene flaxseed crackers often, along with our Bloody Butcher corn tortillas.
-Kay Baxter