Visiting
You are welcome to visit, to meet with the pioneer settlers and to get a feel for the land and the environment.
The settlers process requires that you come to one of our regular hui where we host a small group of interested people, eat, and share our stories, vision, walk the land and socialise.  They are a good place to get the essence of our vision and culture.  The content, dates and timetables for the hui are posted below.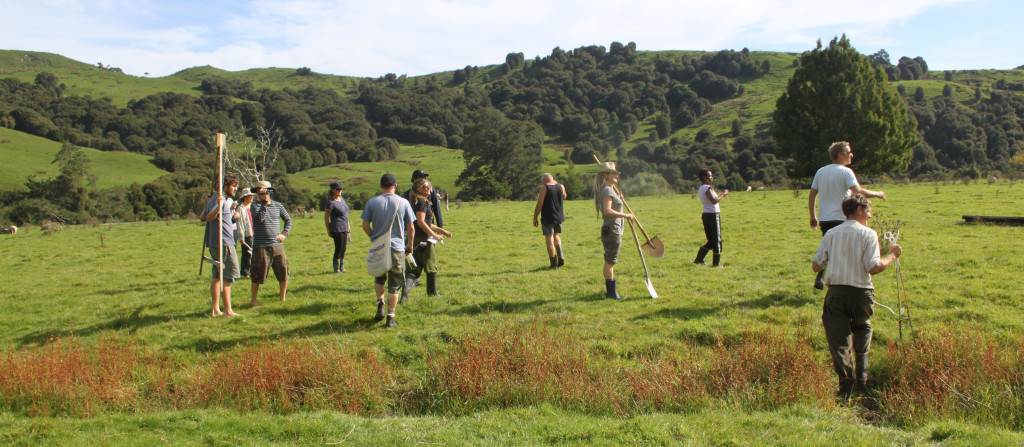 Upcoming Hui Dates
9-11 of November 2018
1-3 of March 2019
It is important that you register your involvement so we can plan for your visit.  Please contact us at contact@kotarevillage.org.nz as soon as possible as availability is limited.
Accommodation Arrangements
You are welcome to camp in the village Friday night and Saturday night, and other nights by arrangement. If you rather not stay in a tent, we have basic caravans available for $20 a night, talk to us about availability. We can also help you find accommodation in Wairoa if required.
We provide food as described in the schedule below, all the food prepared and served during the hui is local and nutrient dense based on W.A. Price principles, this is:
traditional fats and oils. (example: butter. lard,…)
long soaked and/ or sprouted/ and or fermented all seeds, grains and nuts. (example:flax seed, whole barley,…)
high levels of calcium, other minerals and fat soluble vitamins. (example: soups based on bone broths…)
fermented foods with every meal. (example: yogurt, kefir, sauerkraut…)
raw animal food daily. (example: raw milk, raw cheese…)
our own meat and eggs from the village. (example: roast lamb, sausages, frittata…)
no refined or denatured foods.
equal amounts of omega 3 and 6.
If this kind of a menu might be of an issue for you, please let us know as early as possible.  As well feel free to bring with you anything else you might require.
Kotare Village Full Weekend Hui:
Friday:
16:30 – Arrival – A bit of time to get organised and put up a tent.
18:00 – Dinner
19:00 – Circle – Meet everyone: This is a space for us all to share a bit about ourselves. (indoors).
Saturday:
***We have organised several adults from the village to take care of kids who wont appreciate too many hours of talking inside, they could hangout outside, go for walks, visit the animals and so on
08:00 – Breakfast
09:00 – Vision Presentation – Bob will cover the village legal structures, the village design and business plan. (indoors)
10:30 – Tea Break
11:00 – Go for a walk in the clusters – An opportunity to walk around the village and get a feel for the site.
12:00 – Lunch
13:00- Food, Soil, Health and Co-Evolution Conversation – A space to share our understanding about health, co-evolution, and how this might reflect in Kotare Village. (indoors)
14:00 – Generic Design Presentation – Bob will cover the concept and opportunities for building your house at Kotare Village. (indoors)
14:30 – Break + time for people to take a walk around.
15:30 – Go for a walk up to the Hill Block – An opportunity to visit our spring, explore a bit of the hill block, and get a perspective of the village from above.
18:00 – Dinner
19:00 – Music – Share some good songs and spirit, bring your instruments with you..
Sunday:
08:00 – Breakfast
09:00 – 11:00 – Working Bee – This will be a task in the community that needs doing. Its always great to go out and do some work along side the community members, and a great chance to ask lots of questions while meeting a range of people.
11:00 – This time is set aside for everyone to have a private talk with the trustees, by half hour appointments.
12:00 – Lunch
13:00 – Continue private appointments.
Hui ends here