Three trustees have been appointed as a formative Trust Board of the Kotare Community Land Trust.  This board remains in place until October 2017.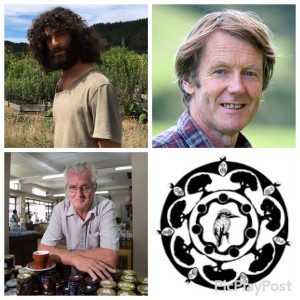 Peter Alexander
Peter is well known within the organic food sector as the owner of Chantal Foods and Chantal Foods and Chantal Organic Wholesalers, which distributes grocery lines throughout New Zealand.  He is dedicated to the principles of organics and sustainability.  He firmly believes that we must respect nature and produce healthy products that protect the earth's resources for the future.  He is passionate about organics because they mean health, fairness and care for our land, water, animals and people.  Peter grows fresh vegetables on 5 acres organically, and also owns a vegetarian organic café as part of his health food shop in Napier.
Peter has been a member and active supporter of our work for over 15 years. He has a strong commitment to food self-reliance and healthy food within NZ.  He is keenly aware of the importance of New Zealand becoming more self reliant in high quality organic and heritage produce, not only because of the increasing difficulty of ensuring supplies in a world of increasing food scarcity and demand, but also of the many positive benefits to our communities.
He believes the work of Koanga Institute will play an important role in our future resilience and support at this stage will return many benefits in the future.
Bob Corker
Bob has degrees in Physics and Soil Science and has spent his working life as an organic sheep and beef farmer, environmental consultant, wetland landscaper, and ecovillage developer.  Over the last years he has brought this knowledge and experience to choosing and financing the purchase of ideal land for the village, and developing a comprehensive constitution from which the village will grow. He is now also involved as a director for the development company (Kotare Commons Ltd) and is involved in a family share-farming business with the Kotare Community Land Trust.
Shaked From
Shaked was born in Israel, where he grew up in a small 'Kibbutz', of 150 families. He was the third generation of his family in that Kibbutz.  He believes the model Bob has put together for the village is a perfect balance between individuality and the fertile soil for community building, and is very passionate about sharing and using his experience in the Kibbutz towards a better model for Kotare village.  Shaked has a strong sense of justice and honesty, and feels privileged to be able to serve through Kotare Community Land Trust.