Freezers Filled With Organic Milk Fed Pork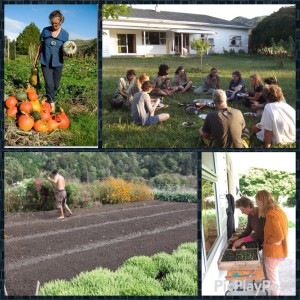 Wow, we can hardly remember what happened last week, it was a lot!. Firstly Kay & Bob got a new roof over the house truck which has meant no more condensation on the ceiling during the cold mornings. As per Kay "this changes my life a lot!".  Their next step will be to instal a fibre earth plaster inside on the ceiling.  We may all do this next week during a 'working bee'.
Today Koanga's students begin to arrive for the Appropriate Technology Internship.  We have another exciting 3 weeks ahead of us watching solar hot water heaters and rockets stove cookers materialise.
Taiamai, Franzi and the girls were here last weekend, a long weekend here because of ANZAC weekend.  Taiamai took the lead and now we have filled all our freezers with our own meat.  Yummy!
We have around 50 people on our lists now of families and investors wanting to be part of this village so much of our energy is going into talking with theses people and finding out who the group will be that join us in meeting our next goal which is paying for the land and placing it in the Land Trust by July 31st. It's really exciting getting to know potential new settlers and discovering the things they are good at and are passionate about too.
We have a hui this weekend which will be interesting because around 6 families joining us will be overseas, they will be joining by Skype!! There will be chairs with laptops on them in the circle!!!!!  This is new for us and a little outside our comfort zone but we are having fun with it.
Elanor, Kay and Bob's granddaughter, has been with us this week, so that been wonderful as well.   She was the first child born here at Kotare Village and having her around is fun for everyone!
Time goes very fast here… today Leon is off back to Germany for 10 weeks.. we'll all miss him heaps and we wish him a great time at home with his biological family.