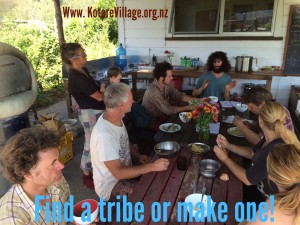 It has been impossible to avoid our colonisation by the industrial paradigm.
When we choose to return to being 'indigenous' the largest challenge will be removing ourselves from the mindset of the coloniser, to rechoose our way of life.
By indigenous I mean those whose relationship with the land/environment is one of being within/part of  – rather than owning it or managing its resources.
This is our birthright, but now we are challenged to consciously regain it.
My observation is that this is near impossible without in some way removing ourselves from the habitat our colonisation has shaped for us.
It is important that we look to creating our own communities.  Much of our individualism is a construct of the colonisation process.
Find a tribe  –  or make one!
#koanga #kotare #ecovillage #regenerative #PRI #paleo #westonaprice #westonprice #primal #rewild #GAPS #traditionaldiets #permaculture #organic #newzealand #hawkesbay #resilience