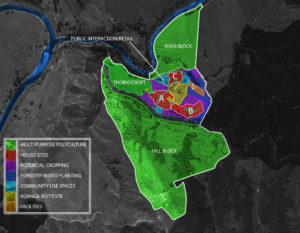 Stage Zero (Completed Before August 2014)
Find, finance and purchase land. (inc. legal structures for WVL as the engine to start the process)

Move on to the land and start develop basic needs, including some basic livelihoods.

Set up all legal structures: KCLT, KVA, KC.

Develop all vision documents.
Stage One (Completed August 2015)
Finalise taxation issues: GST, Income Tax.
Secure loans for infrastructure development

Develop and activate initial marketing and sales plan.

Purchase the 'Home Block': pay out all Investor Creditors and move the land into trust ownership.

Finance and secure additional land 'River Block'.

Secure loans for first stage infrastructure development.
Stage Two (Completed August 2016)
Install water reticulation to Clusters A and B
Install fibre optic cable and internet facility
Initiate Kotare Commons Ltd
Engage CEO for Kotare Commons Ltd

Finance and secure additional land 'Hill Block'.

Secure funding for Stage Three
Stage Three (Completed summer 2017)
Complete major marketing campaign for additional settlers and investors
Obtain building consents for generic designs of housing (Options 1,2 and 3) and start preparations to build first housing
Pay out parts of river block loan back to investors
Stage Four (Estimated Completion autumn 2018)
Complete first buildings
Finalise payments of River Block loan
Develop village green plantings
Complete campground ablution blocks
Complete village green communal facilities (large tents) with cooking facilities
Upgrade workshop for building projects and appropriate technology
Secure funding for Stage Four
Stage Five (Estimated Completion autumn 2019)
Complete dams for water storage, filters, and additional reticulation
Develop main crop gardens
Complete first 'studios' in Wool-shed
Complete new cowshed, stock yards and meat processing facilities
Start building new education facilities for Koanga Institute.
Start nursery development for large scale planting of perennial crops
Start planning community facilities and other projects
Secure funding for Stage Six
Stage Six (Estimated Completion August 2018)
Purchase Hill Block
Start co-operative vehicle fleet
Continue with house building and community facilities
Complete new education facilities for Koanga Institute
Purchase forestry block for timber and fuel resource
Develop village green plantings
Complete new cowshed, stock yards and meat processing facilities
Start building new education facilities for Koanga Institute.
Start large scale planting of perennial crops
Start developing new projects
Secure funding for Stage Six
Stage Seven (On-going )
Continue with house building, community facilities and new projects
Continue with large scale plantings
Purchase additional forestry and farm land
Additional development for self-reliance and resilience